Designer:
Peter Raacke
Material:
Stainless steel 18/10
, Matt brushed
Publishing year:
1959
Length: 21.5 cm
Product number: 1060
EAN: 4029999002419
Mono A is the foundation of the history of Mono. The designer Peter Raacke created this reduced design on behalf of Herbert Seibel (3rd generation of the family business) at the end of the 1950s. The goal was to develop a flatware with a timeless design that could be produced easily and sustainably. After its launch in 1959, designer Raacke and manufacturer Seibel realized that the design was too progressive, the radical simplicity did not meet the taste of retailers and customers. In 1973, fourteen years later, Mono A won its first important design award, the Federal Prize for Good Form. Today, it is considered an absolute design classic, has won dozens of awards and has proven itself again and again in timeless aesthetics and relevance.
Mono A is made of 18/10 stainless steel. The knife blade is made of hardened blade steel that ensures long cutting durability. All parts are suitable for cleaning in the dishwasher. For more tips on caring for Mono flatware, click here.
The Mono A knife is available in two versions. The short blade is the original knife design by Peter Raacke. The long blade was added later as an alternative. Both variants are equally functional. The choice is based on personal preference. Complementary, various serving pieces are available by Mono A, from salad servers to cake servers to snail forks. All pieces have a satin brushed finish, alternatively Mono A is also available in mirror finish.
If you are unsure whether Mono A is the flatware of your choice, you can test it at home in daily use to make your decision with a high level of confidence. More information about the Mono flatware tasting can be found here.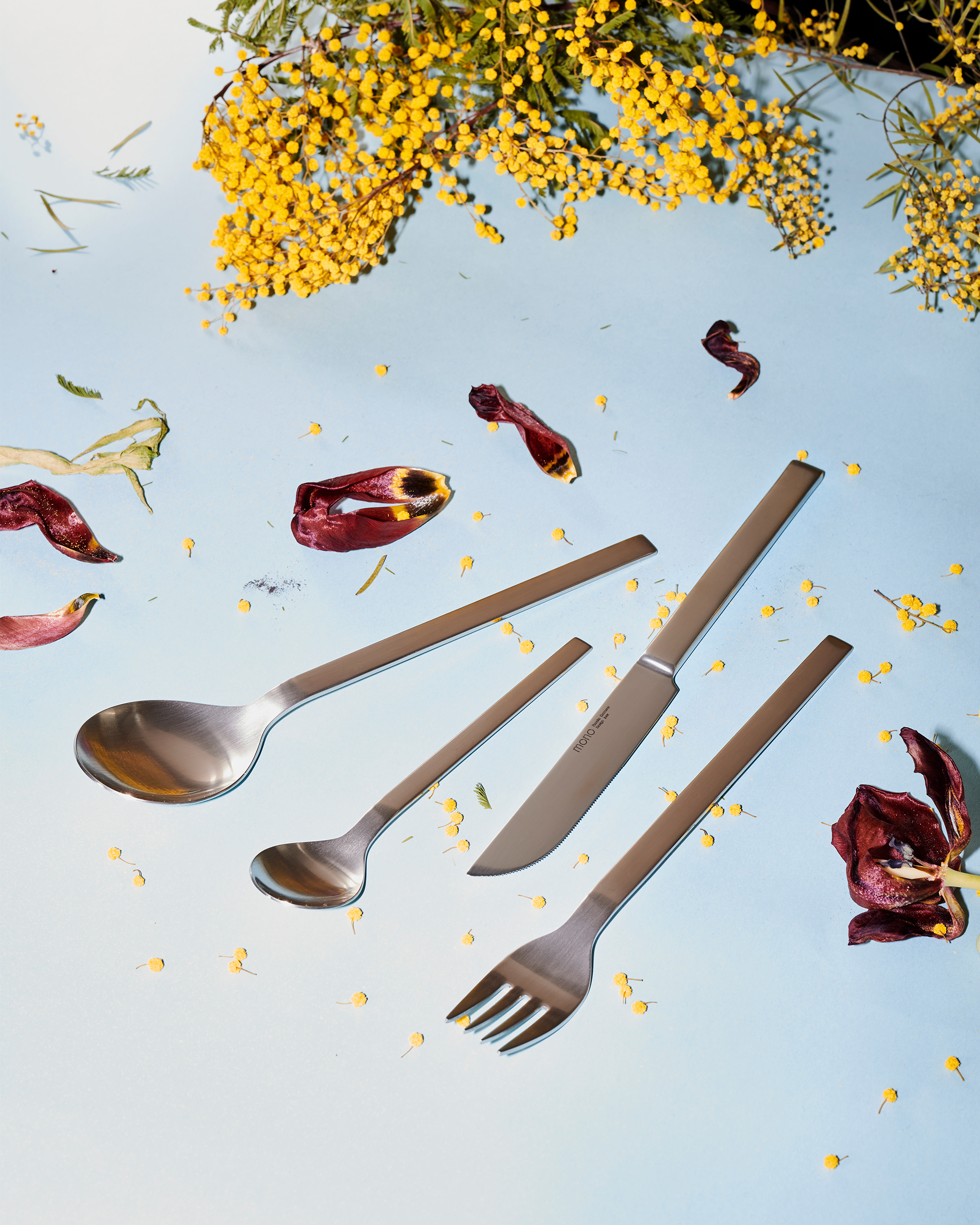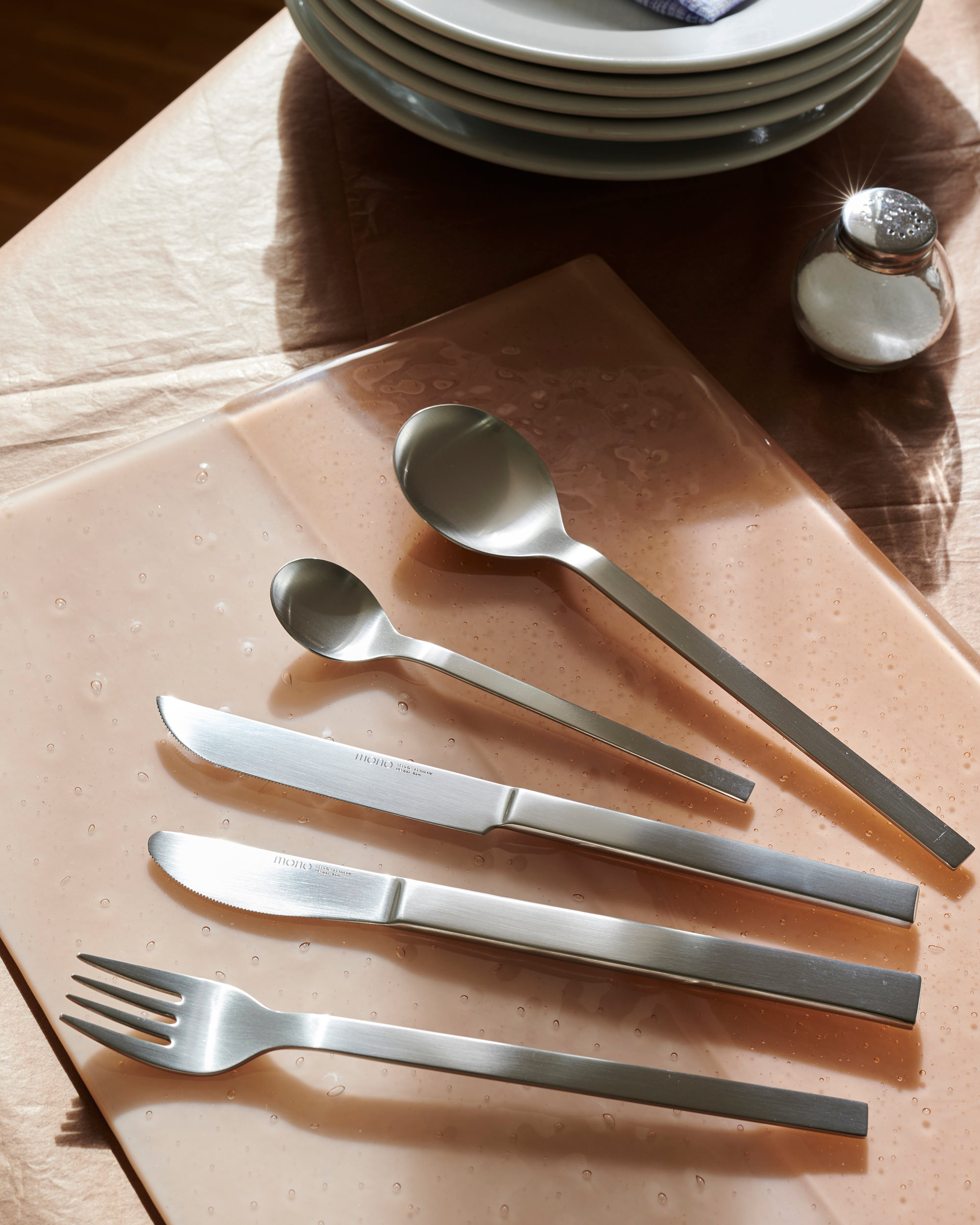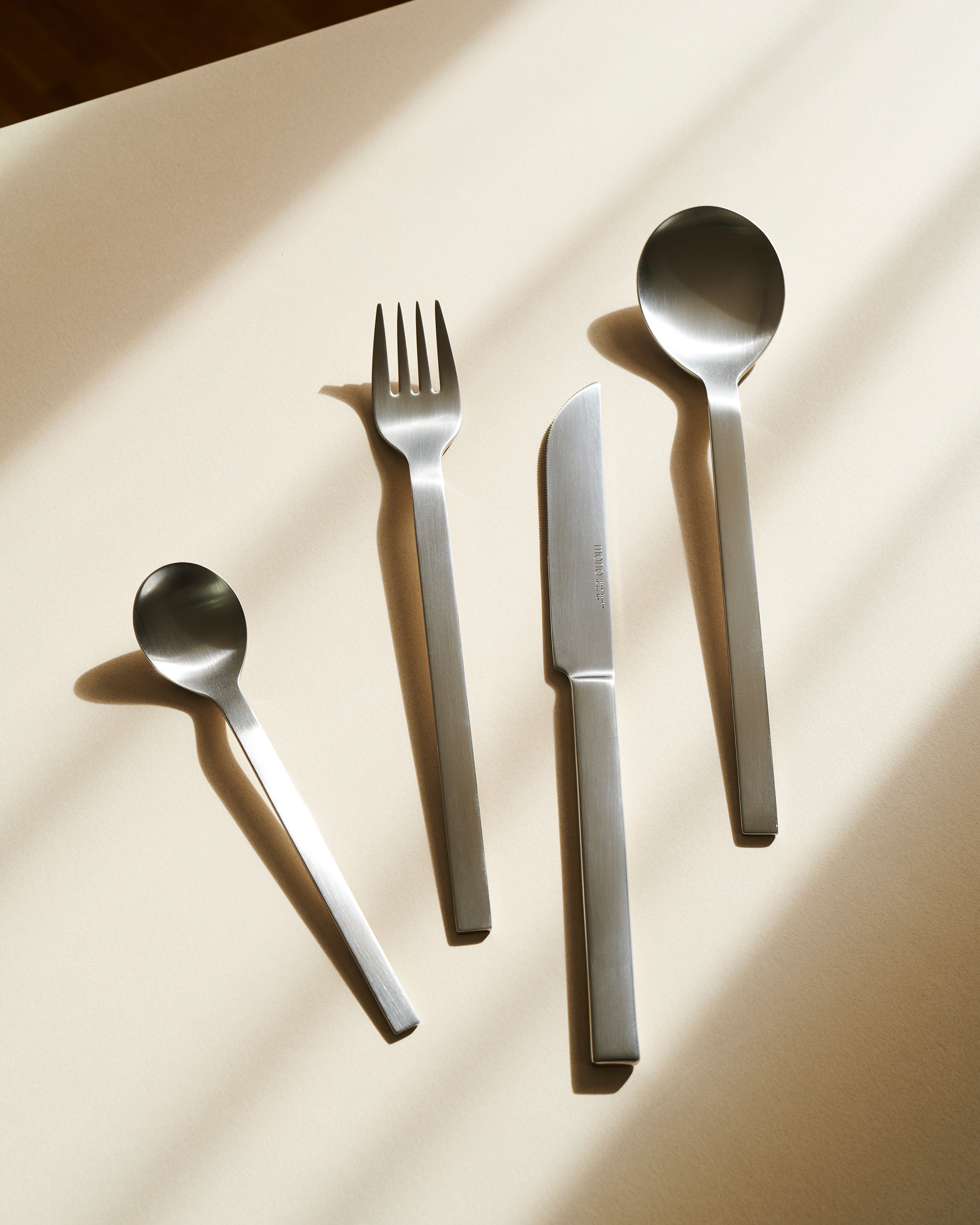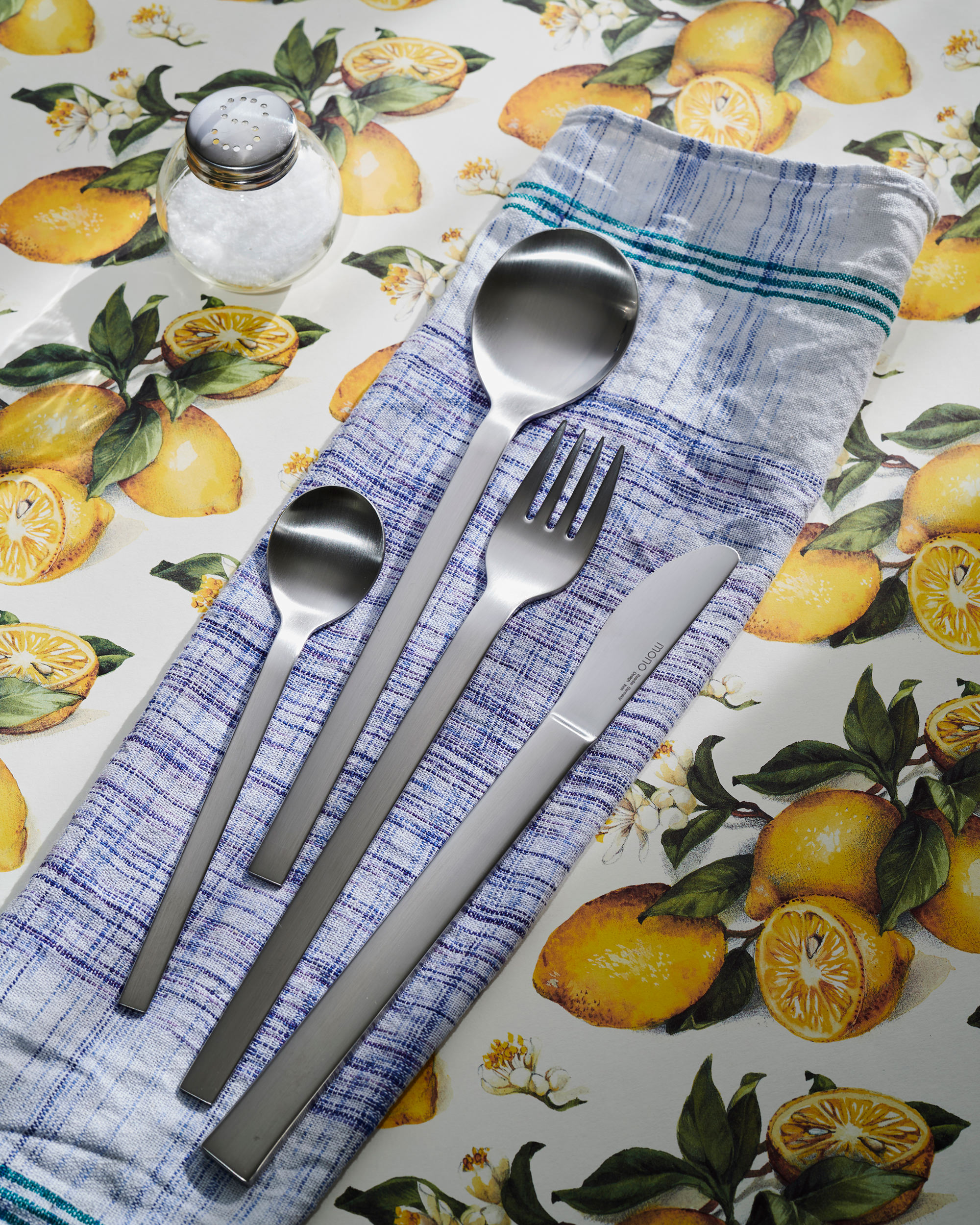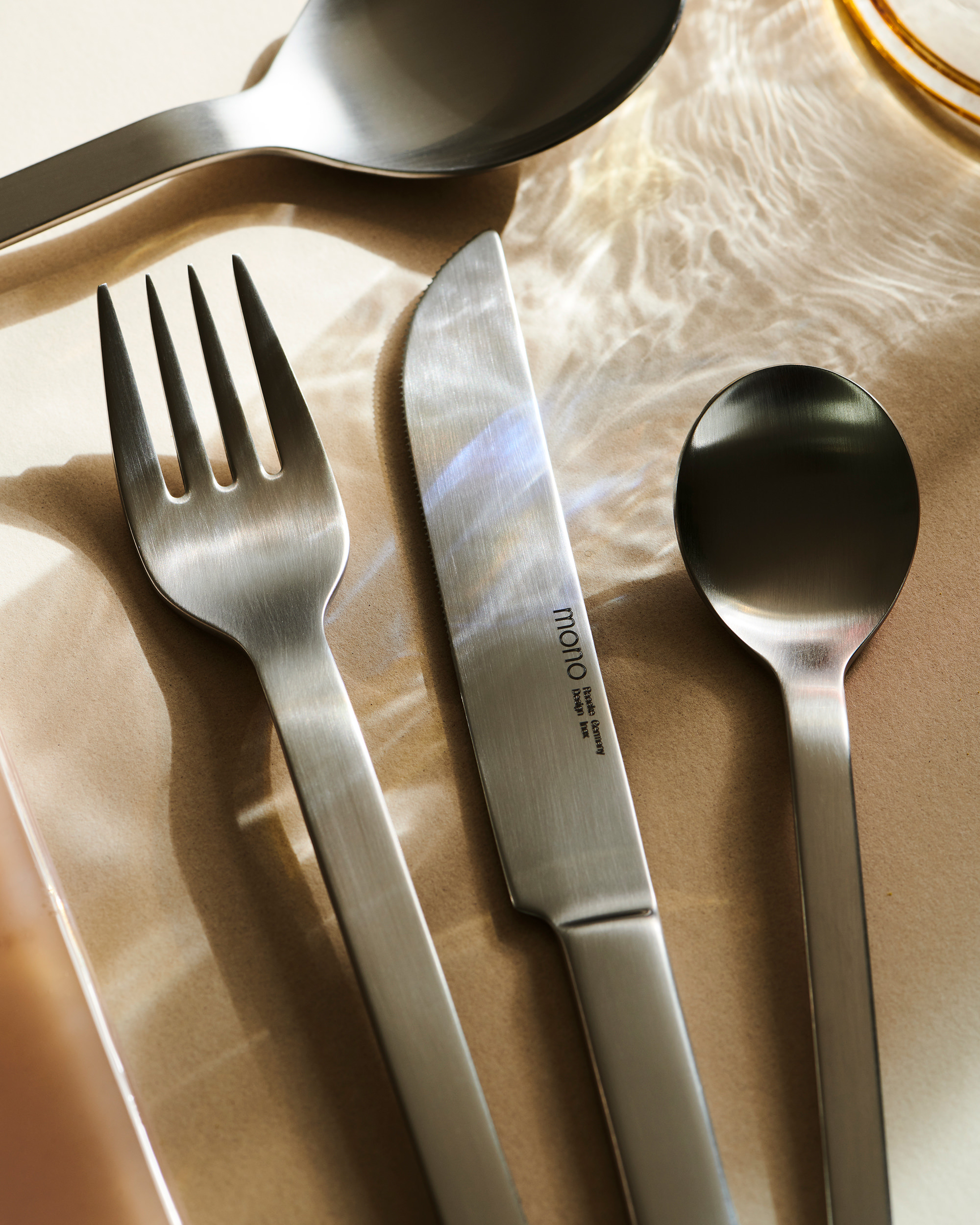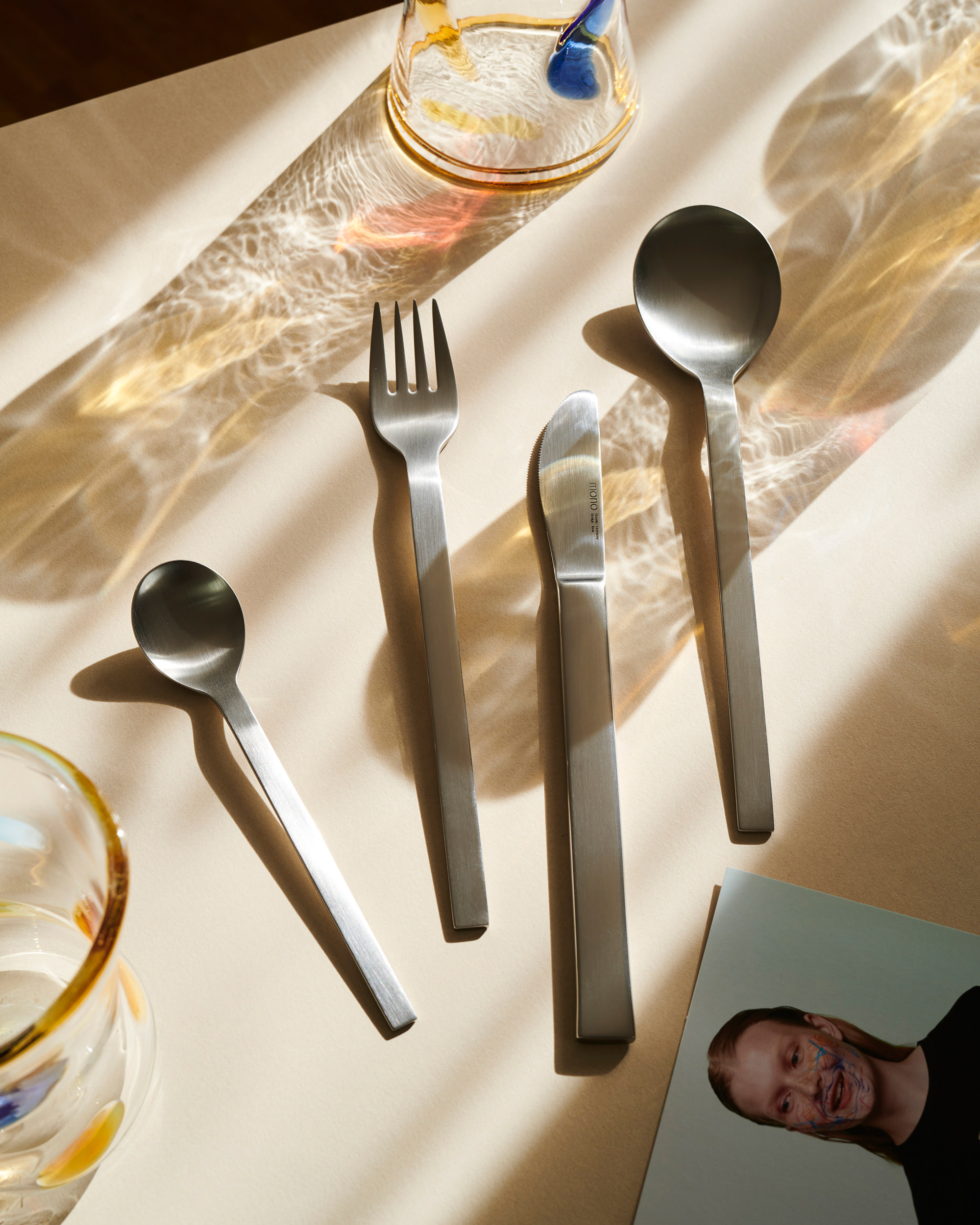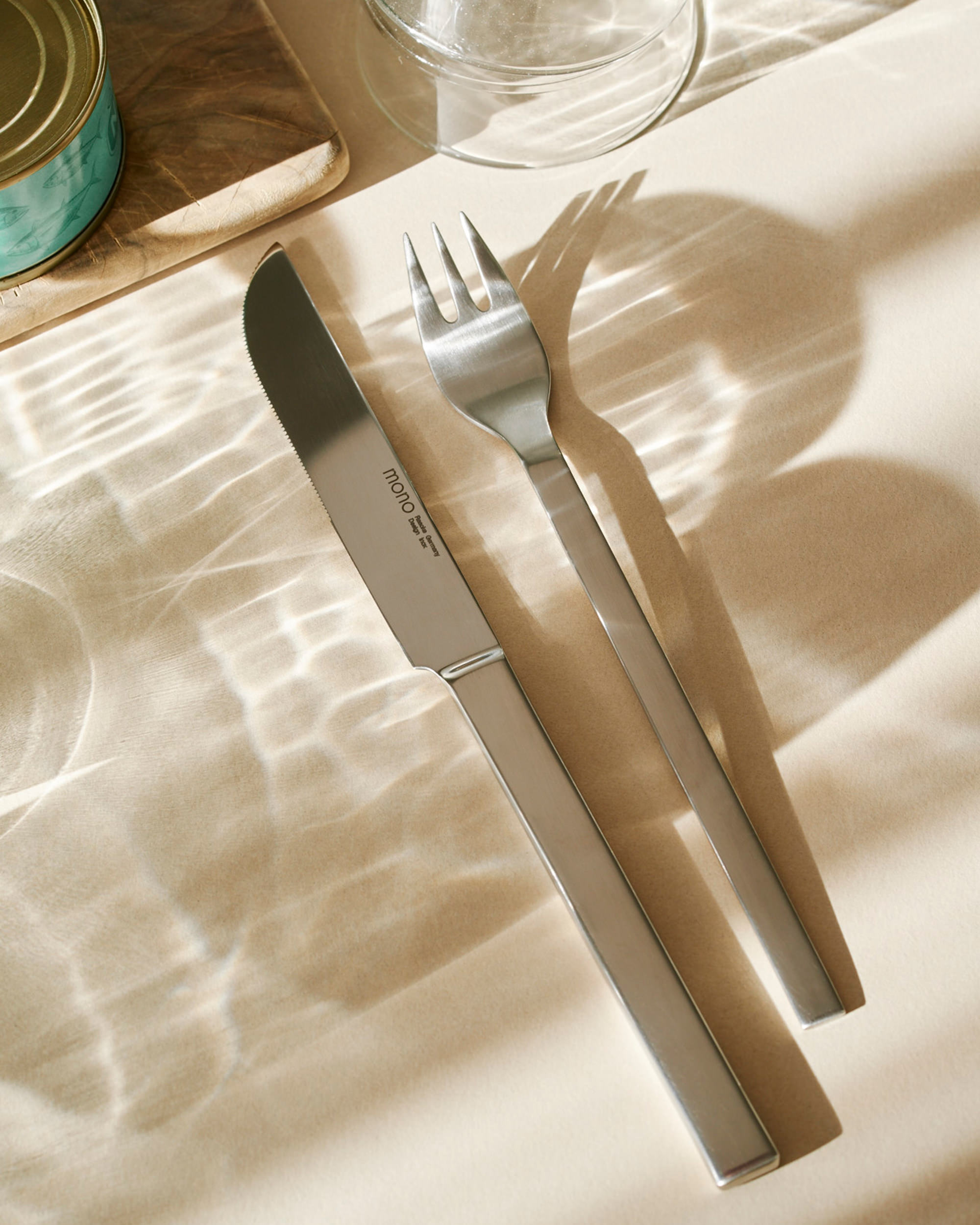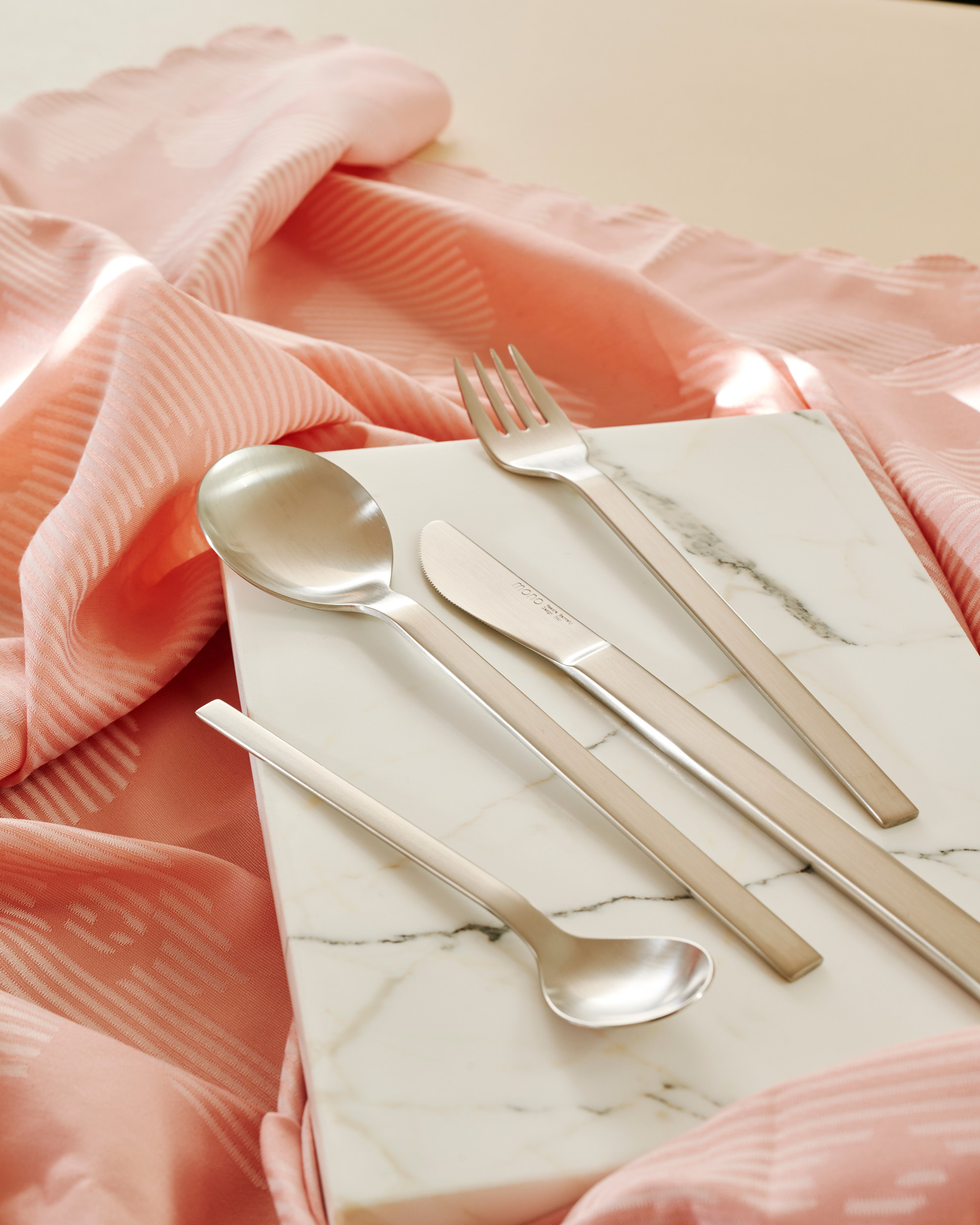 A piece of metal that wanted to become a flatware set.

Wilhelm Seibel V. is certain: "If uncle Herbert Seibel had not rebelled against his father Heinrich Seibel at the end of the 1950s, the Mono company would no longer exist today. Seibel III. was the third generation to produce solid department store cutlery in the lower and middle price segment, and this should remain so. About 200 German cutlery manufacturers shared a boom market at that time. Millions of families lost their household goods during the war.
The economic miracle made new purchases possible. Restaurants and canteens filled the books with large orders. Uncle Herbert, young and dynamic, did not want to end up as a vulgar spoon manufacturer. He secretly drove from Ziegenhain in northern Hesse to the Hochschule für Gestaltung in Kassel and met Peter Raacke, a young lecturer in industrial design. Behind the back of the old man, the two developed a design classic: the cutlery "Mono A".
Most post-war Germans loved flourishes. Gelsenkirchen baroque also conquered kitchen drawers. Mono A, on the other hand, came in a functional design, angular, in industrial stainless steel. The Seibels' regular dealers were irritated. "A piece of sheet metal that wants to be cutlery," blasphemed the competition.
Today there are less than ten cutlery manufacturers in Germany. At the end of the 1950s, the post-war demand was covered, and since the 1960s, Far Eastern low-cost suppliers have been pushing their way onto the European market. The piece of sheet metal that wanted to be a cutlery won its first important design award in 1973 with the German Federal Prize for Good Form.

(Thomas Ramge. From the gut. In: brand eins, 08/04, p. 80)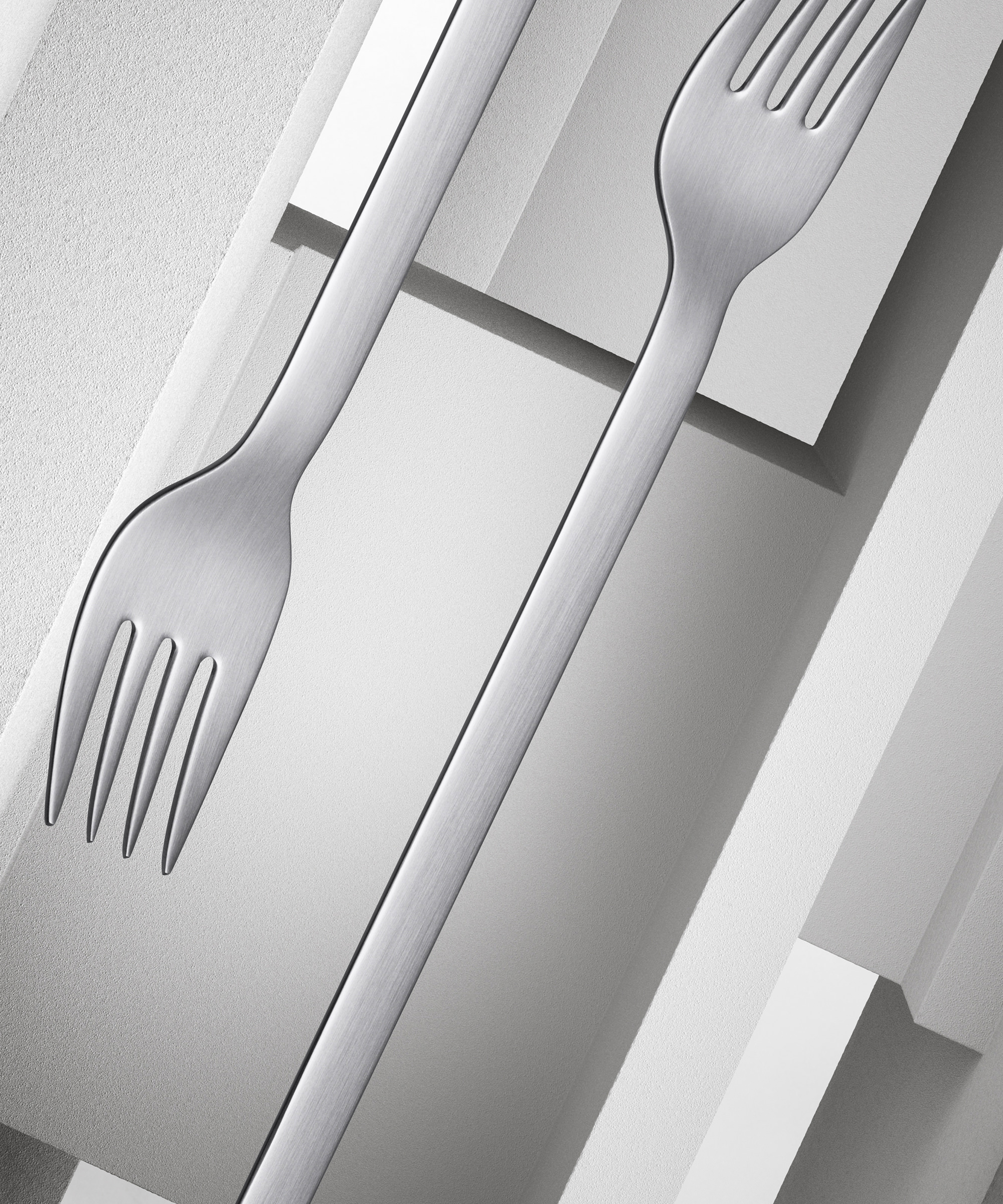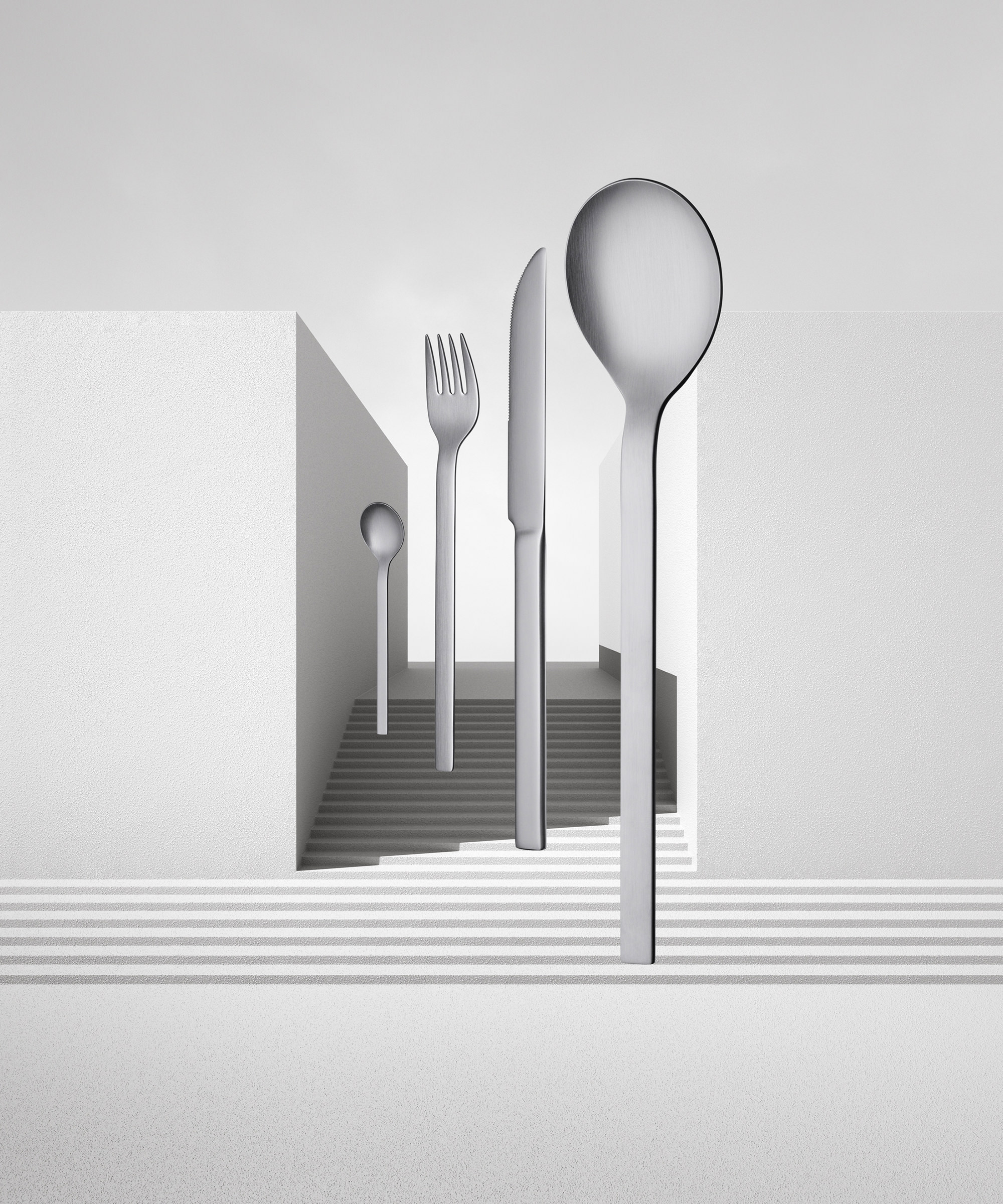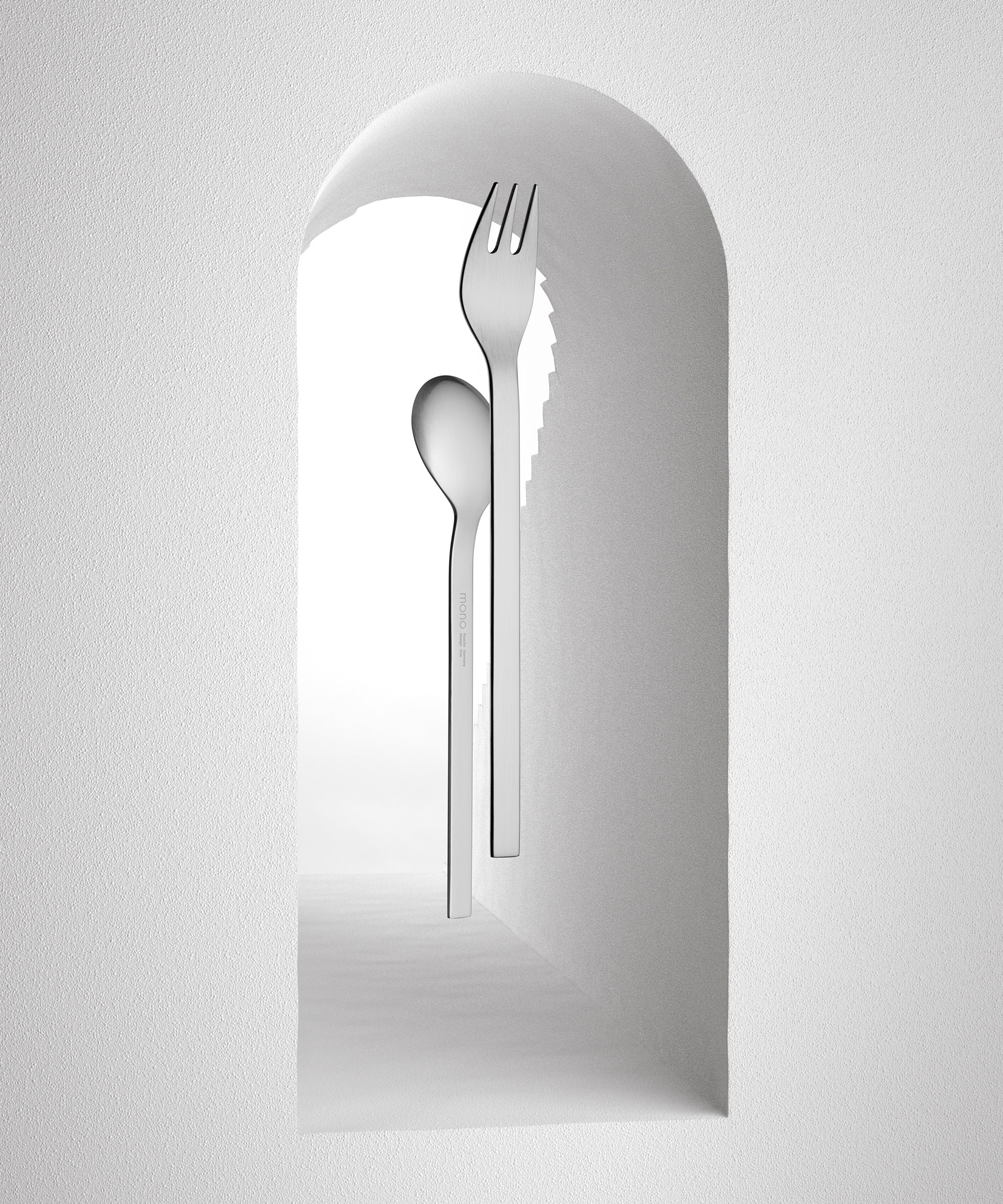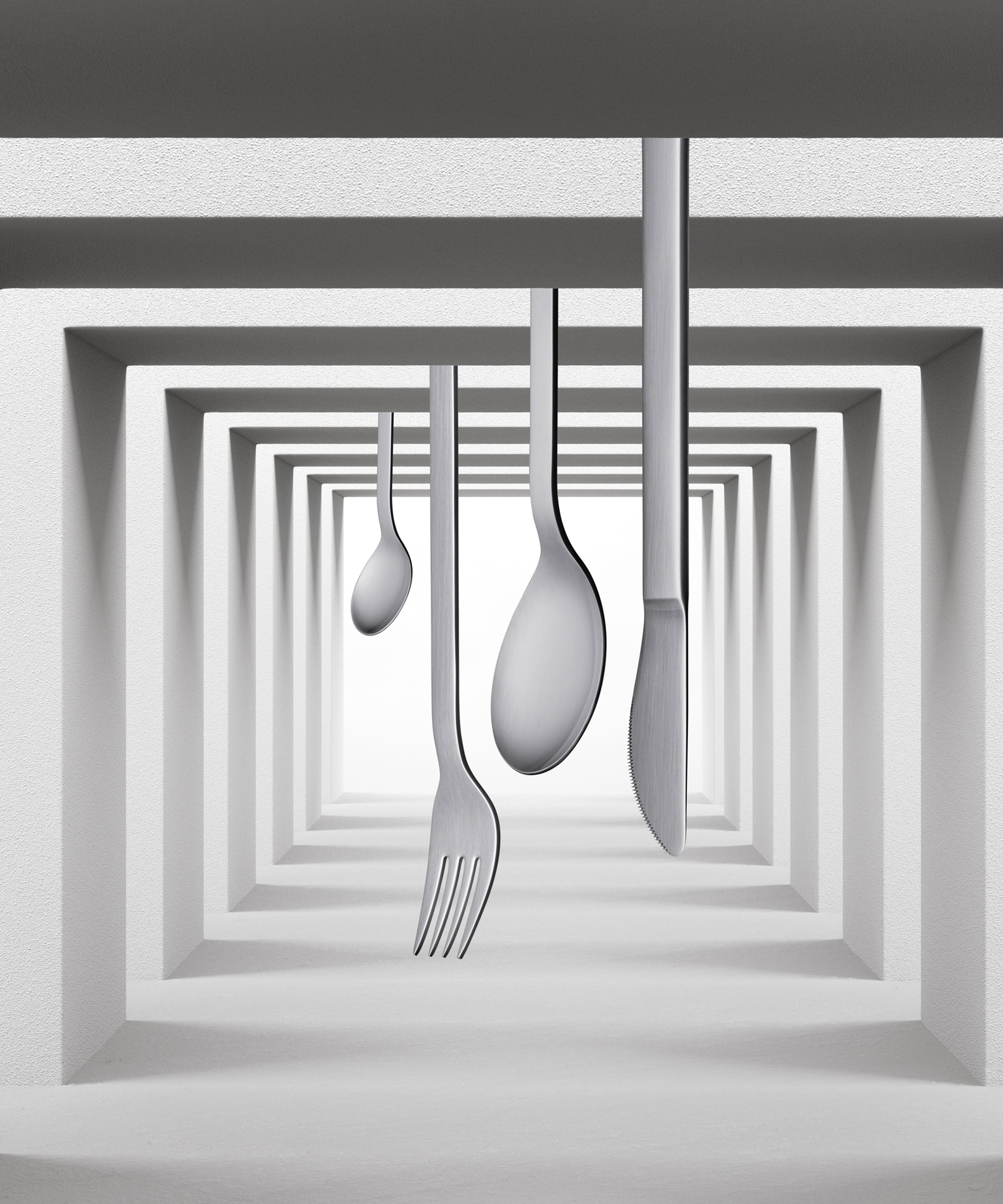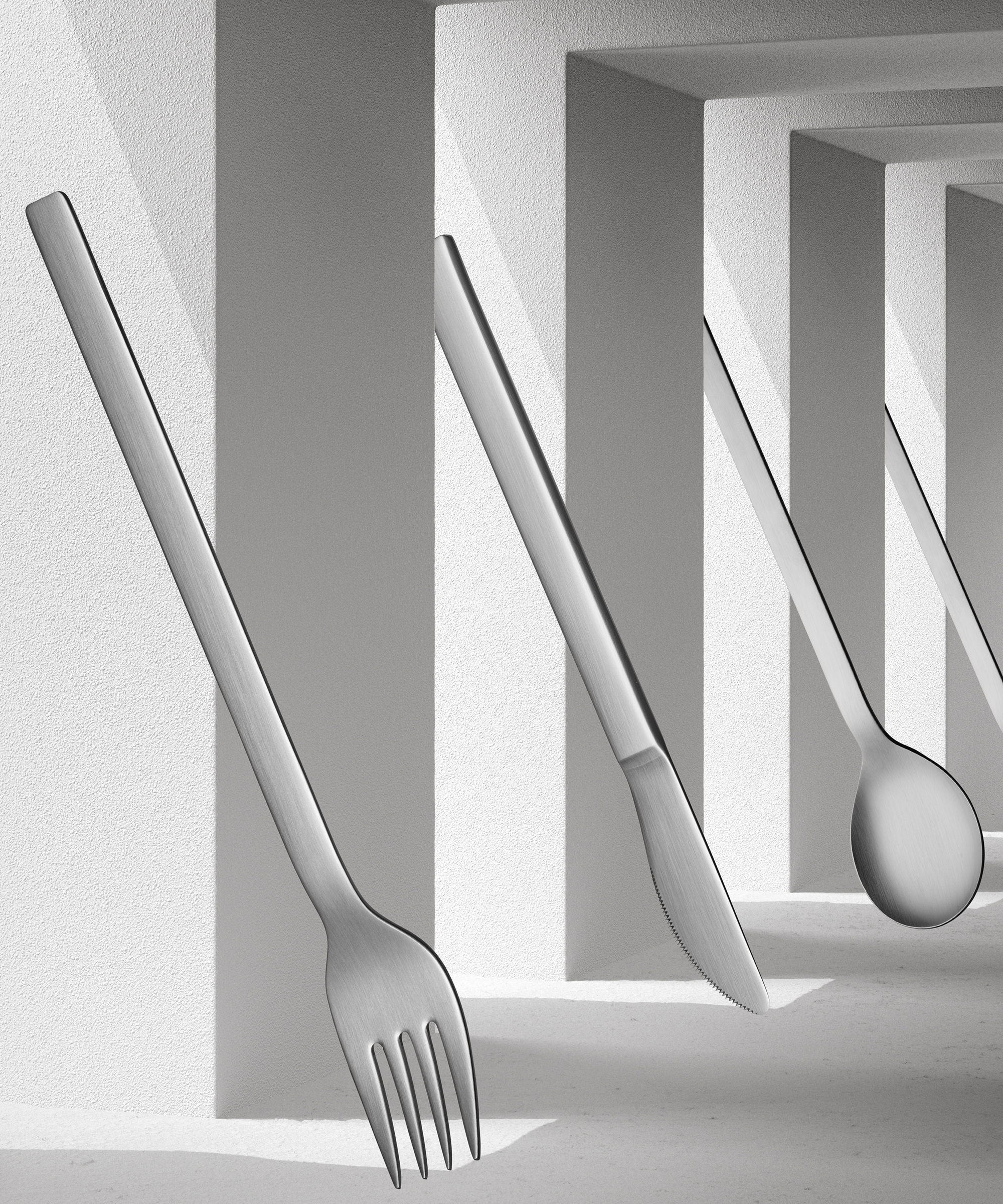 Selection of design awards and collections for Mono A since 1959:
Bundespreis "gute Form", Hannover 1973
IF Ecology Design Award, Hannover 1997
Iconic Interior Award, Frankfurt 2016
German Design Award, Frankfurt 2019
Deutsches Klingenmuseum, Solingen
Design Center, Stuttgart
Haus Industrieform, Essen
National Gallery of Canada, Ottawa
Philadelphia Museum of Art, Philadelphia
Staatliche Kunstsammlungen, Kassel
Stedelijk-Museum, Amsterdam