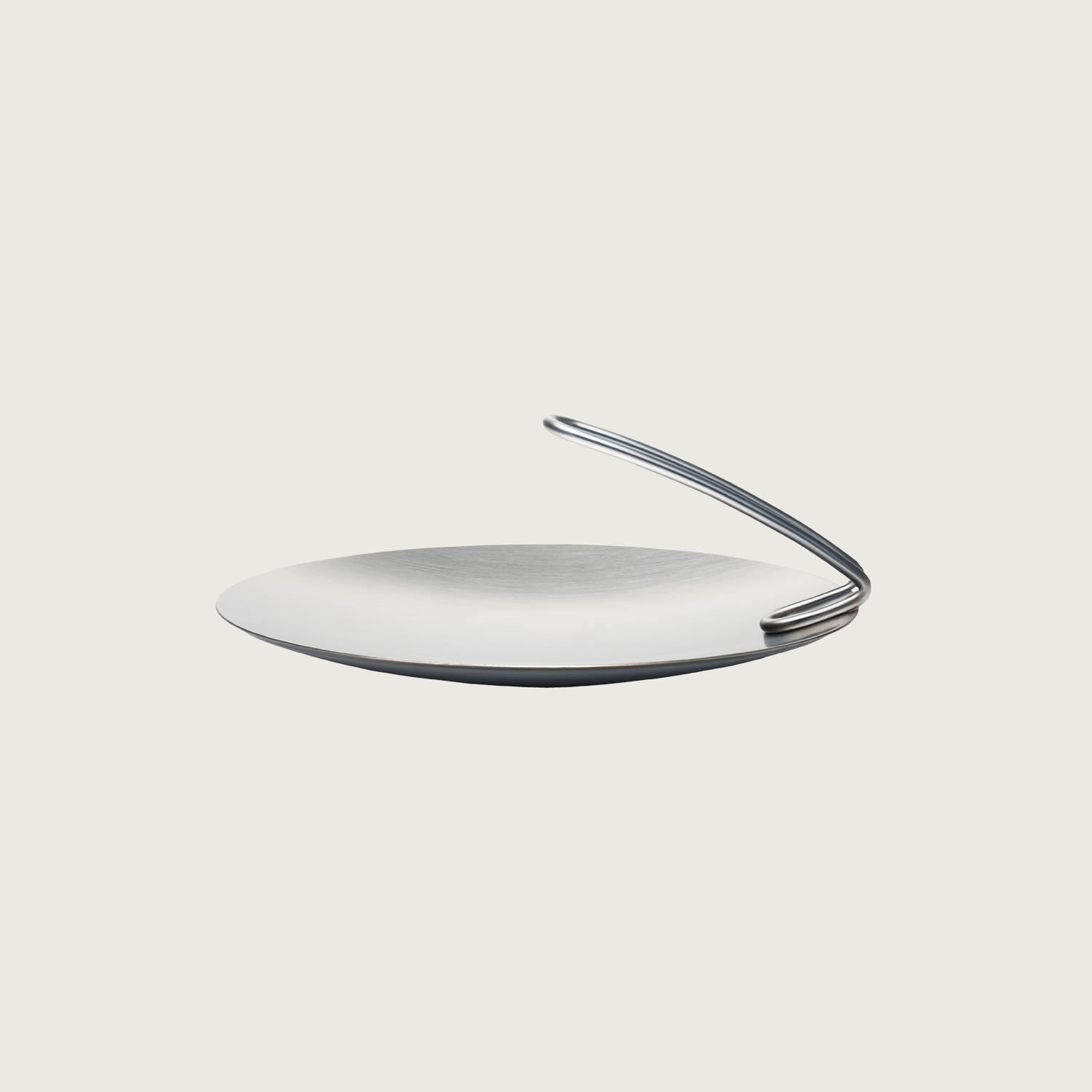 Mono Multitop cooking lid small
Available, delivery time: 1-3 days
Designer:
Harald Knauf
Durchmesser:
22.0 cm
Material:
Stainless steel 18/10
Publishing year:
2017
Product number: 10722
EAN: 4029999004956
Mono Multitop is a wide range cooking revolution.
Due to its special curved shape Mono Multitop lid fits many different pot sizes. No more annoying search for the right size lid. Mono Multitop comes in two sizes (22cm and 26cm) and covers the entire range of common pot diameters.
The side handle and the lid's curved shape create a space that can be used in a variety of ways. From holding cooking utensils while cooking, to keeping food warm, to setting aside herbs and spices, to placing a noodle too hot to taste. Mono Multitop also helps creating space when not in use by being stored either stacked or hung up.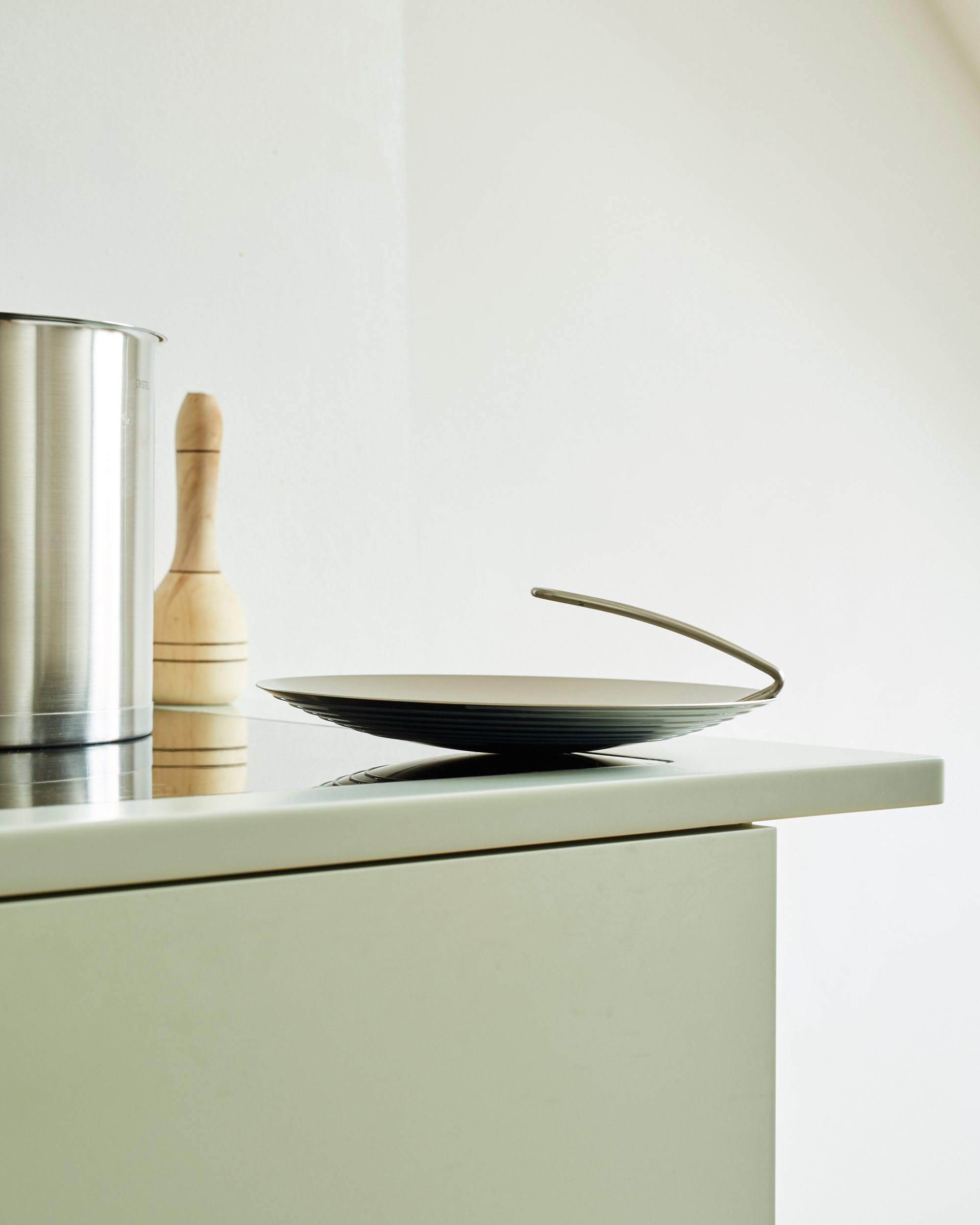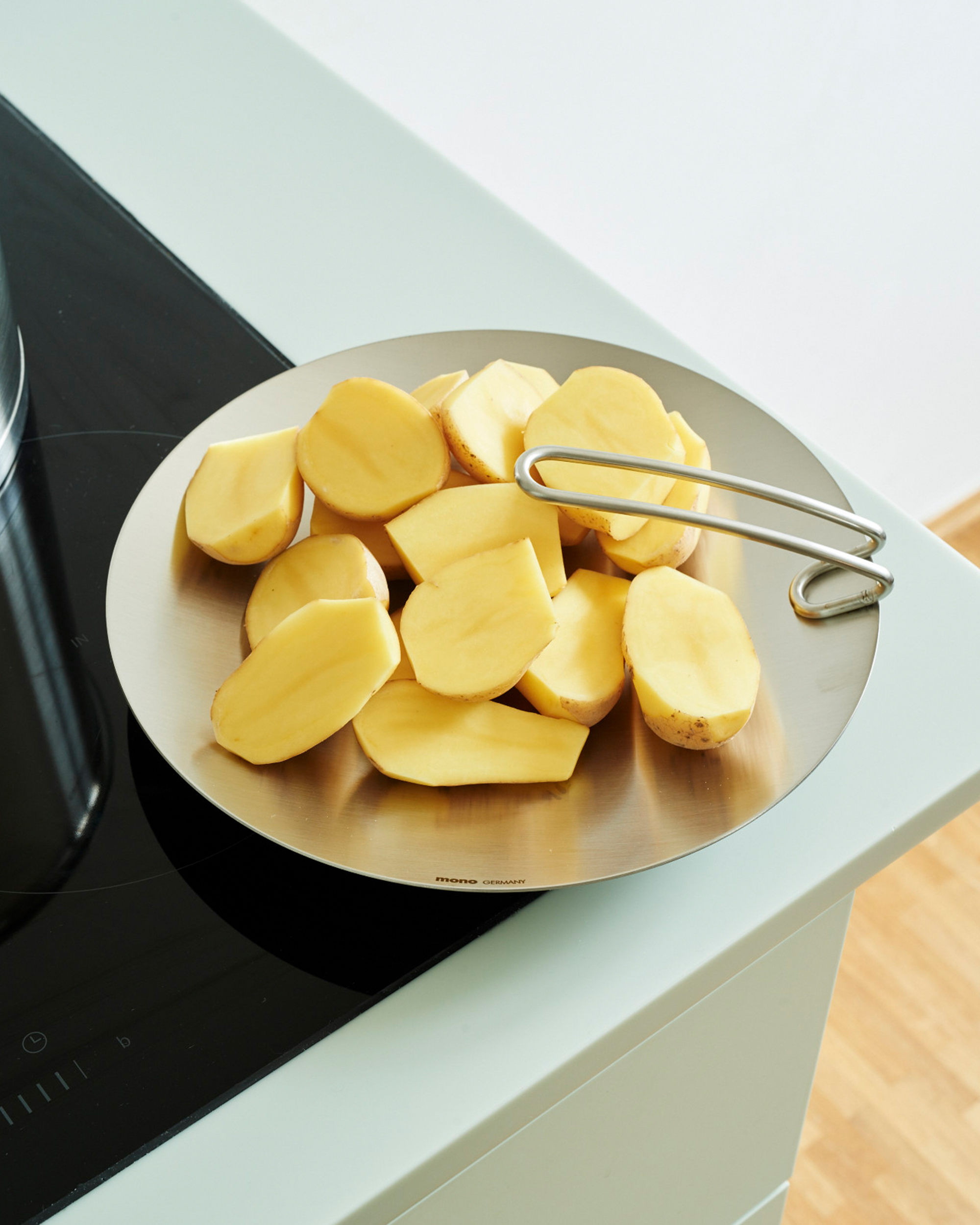 Mono Multitop becomes the third hand in the kitchen.
The side handle makes handling practical and intuitive whether transporting chopped vegetables from the cutting board to the pot or when adding some liquid. The silicone coating on the underside allows the pot to be opened seamlessly and with a soft touch.
Mono Multitop is manufactured at Mono, the German producer of handcrafted design originals, with the highest standards of craftsmanship and quality. The handle and lid are made of stainless steel which makes Mono Multitop dishwasher safe.
Mono Multitop offers countless application possibilities. Here are some examples:
Lay down
Mono Multitop makes the space on the pot usable such as placing cooking spoon or tasting fork.

Prepare
Mono Multitop is practical work space. E.g. while stirring starch with a little water before placing the mixture in the pot.

Set aside
Mono Multitop becomes a holding space. E.g. for chopped vegetables, which are stored on the lid before they go into the pot.

Taste
Mono Multitop cools. E.g. the too hot to taste noodle, or the gravy which should be tasted at the perfect temperature.

Keep warm
Mono Multitop keeps warm. E.g. the roasted pine nuts before they garnish the soup in the pot.

Transport
Mono Multitop is a transport aid. E.g. of fresh herbs on the way from the cutting board to the pot or for plates on the way to the dining room.

Cover
Mono Multitop fits on many. E.g. on salad bowls or on jars filled with fresh juice in need for cover.
German Design Award, Frankfurt 2018

Solutions Award, Frankfurt 2018

Manufaktur-Produkt des Jahres, Bremen 2018

Focus Open Award, Stuttgart 2018